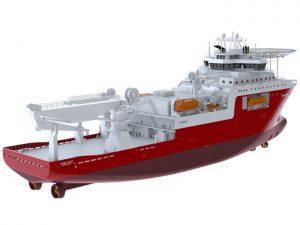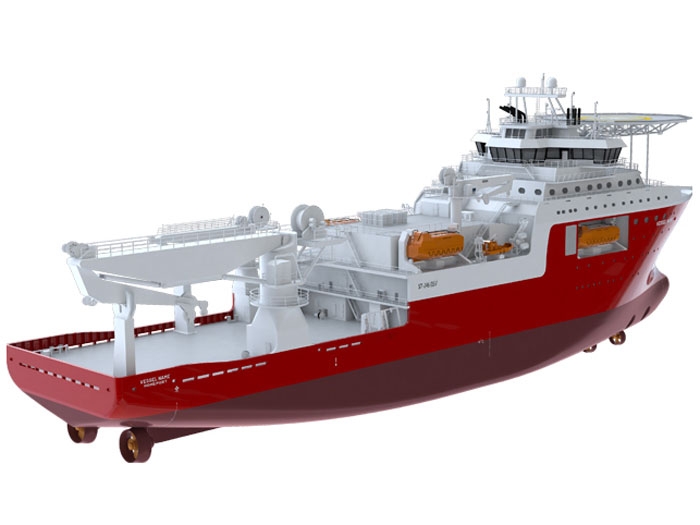 Being built to a new Skipsteknisk, Norway, designated ST-246 DSV, the 120 passenger vessel will be fitted with a 24 person SAT dive system and will have a 250 t offshore crane.
Under the contract with the shipbuilder signed by Rolls-Royce, the vessel will be equipped with the latest DP3 control system and four of the latest Bergen B33:45 generating sets. The total delivery also includes main propulsion, tunnel thrusters and remote controls.
The medium-speed Bergen B33:45 main engines, launched last year, offer a 20 percent increase in power per cylinder compared to existing engines in the Bergen range and comply with IMO Tier II and III rules.The B33:45 is designed to run for 25,000 hours between major maintenance when operating at average loads.
The vessel will be fitted with the Rolls-Royce Icon DP3 (Dynamic Positioning System) — the first Rolls-Royce contract for DP3 for a vessel built in China.
DP systems with classification 3 allow for safe and efficient operations in demanding conditions where any loss of position has the potential to result in fatal accidents, severe pollution or damage with major economic consequences.
The Rolls-Royce DP3 system has an award-winning ergonomic design. A unified look and feel to bridge controls ensures safe operation. The control system itself is closely connected with other inboard control systems and easy to integrate into a bridge arrangement. Among the many advantages, according to Rolls-Royce, is that it provides the vessel owner with a system that is easier and faster to install and commission. Fewer service engineers will also be required for service and maintenance of thrusters and controls later in the vessel's lifetime.
Helge Gjerde, Rolls-Royce, President Commercial – Marine, said: "We are delighted to win this contract in the current difficult market. We are also pleased to welcome Jumeria Offshore as a new customer and we are looking forward to working with them on such an exciting and advanced ship project."