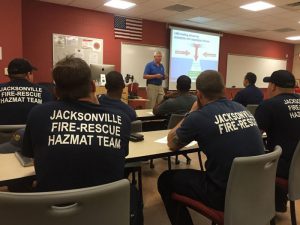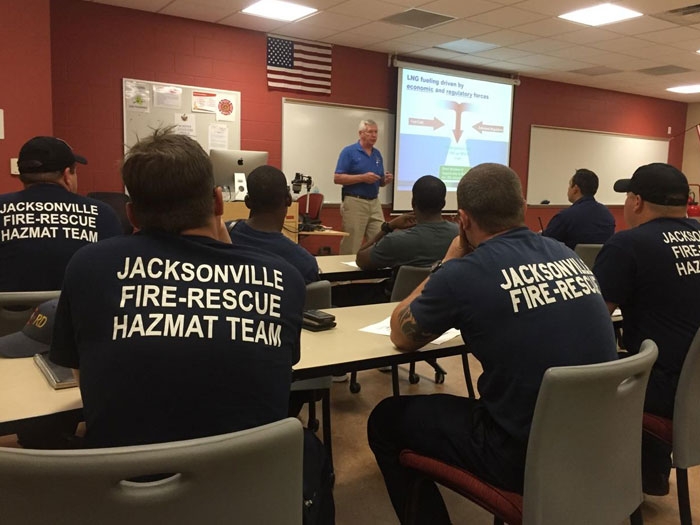 The the first-of-its-kind training was developed by the Gas Technology Institute (GTI) in conjunction with the Florida State College  specifically for Port of Jacksonville stakeholders including Jacksonville Fire and Rescue Departments, U.S. Coast Guard Sector Jacksonville and area law enforcement.
The Jacksonville Marine Transportation Exchange (JMTX) worked closely with U.S. Coast Guard Sector Jacksonville to seek out potential members of the funding collaborative and get support from representatives of the local Area Contingency Planning (ACP) community.
Crowley was one of several Gas Technology Institute (GTI) funding collaborators taking part. As Crowley currently supplies LNG to Puerto Rico via barge and will take delivery of two LNG fueled ConRo ships in 2017, the company was proactive in participating in the training endeavor.
"As a company, we take safety very seriously," said Crowley VP Cole Cosgrove. "As we and other companies in the Jacksonville area continue to embrace the LNG market, it's of utmost importance that we work with our local community to make sure we are all educated in safe handling of this new, environmentally beneficial marine fuel. This training was a first step to ensure all stakeholders have a unified approach to emergency response and clean-up should we ever experience an incident."
Training attendees were introduced to the basic characteristics and properties of LNG, its usefulness as a fuel, its hazards and safety precautions to take when working around the product. The group also learned basic and advanced firefighting techniques including identification of ignition sources, and what types of extinguishing agents exist and when to use them in varying situations.
On completion, attendees satisfied basic LNG awareness  requirements as defined by the U.S. Coast Guard's Standards of Training, Certification, and Watchkeeping (STCW).
"The goal of this training is to keep the excellent safety record maintained by the marine transport of LNG in the past and apply it to the safe bunkering process as we fuel new LNG fueled vessels into the future," said Mark Marien, Crowley's manager, regulatory training.