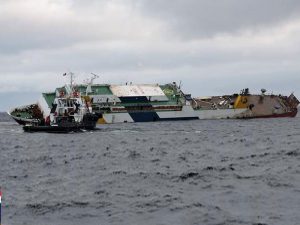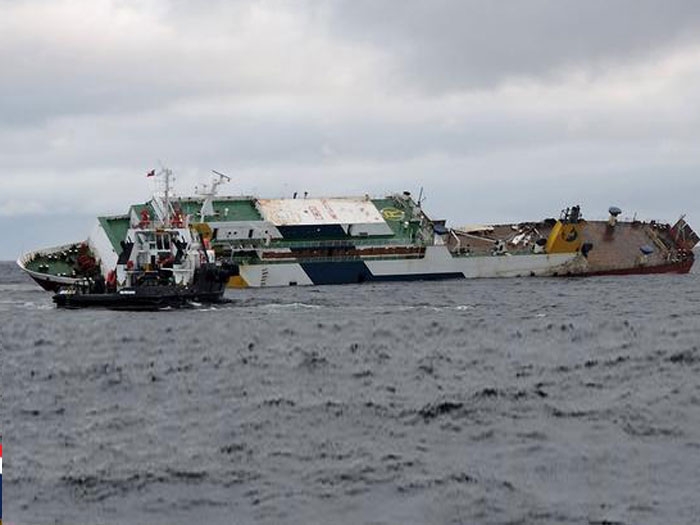 Following the grounding, the ferry, the 126.31 m Amadeo I operated by Navimag, was parbuckled and refloated by Resolve Marine, in an operation that was the subject of a case study presented at this year's Marine Log Marine Salvage Conference by Sam Kendall-Marsden, Syndicate Director, Charles Taylor and Co. Limited and Todd Schauer, Director of Operations, Resolve Fire & Salvage (Americas), Inc.
Subsequent to the salvage, however, insurers declared the vessel a Total Constructive Loss.
The Chilean Maritime Authority (DIRECTEMAR), which is a department of the Chilean Navy, granted permission for the vessel to be sunk under its supervision in 2,700 m of water, northwest of Puerto Natales and over 70 km off Diego de Almagro Island.
Photo from DIRECTEMAR shows Amadeo I prior to parbuckling operation
The sinking was the final chapter in a story that began in 1976 when the vessel was delivered by Norwegian shipbuilder Trosvik Versted as the Seaspeed Dana. Since then, the vessel had sailed under a variety of owners, flags and names.
According to the Chilean Navy, DIRECTEMAR decided that the vessel should be sunk as hull damage was so extensive as not to allow for safe passage during towing to a port for scrapping. Dismantling the ferry in situ was also ruled out because of the risk of serious environmental impact from what would have been a long operation in a location subject to extreme weather conditions.
The Chilean Navy says that prior planning to ensure compliance with strict precautions for the protection of the marine environment meant that the sinking went "smoothly and according to plan."