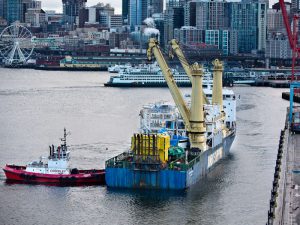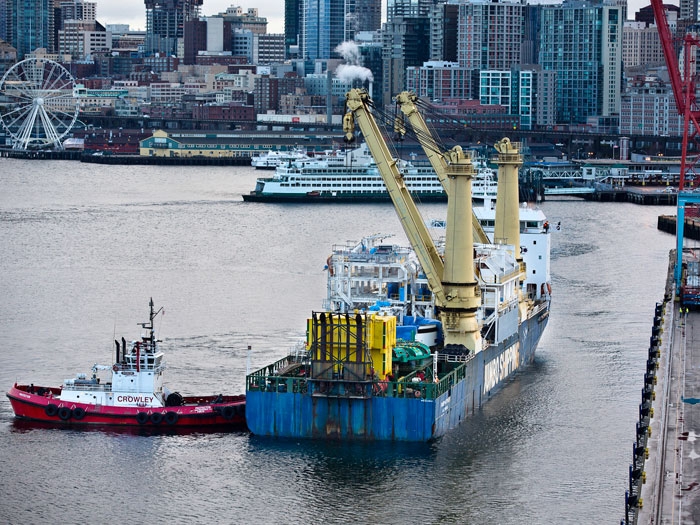 "In the more than seven years that Shell has held leases in the Chukchi, it has only recently been allowed to complete a single well. What we have here is a case in which a company's commercial efforts could not overcome a burdensome and often contradictory regulatory environment," says Murkowski. "The Interior Department has made no effort to extend lease terms, as recommended by the National Petroleum Council. Instead, Interior placed significant limits on this season's activities, which resulted in a drilling rig sitting idle, and is widely expected to issue additional regulations in the coming weeks that will make it even harder to drill. Add this all up, and it is clear that the federal regulatory environment—uncertain, ever-changing, and continuing to deteriorate—was a significant factor in Shell's decision."
Murkowski made the point that just because the U.S. has created a difficult environment for offshore drilling in the Arctic, it doesn't mean other countries have. "Development in the Arctic is going to happen—if not here, then in Russia and Canada, and by non-Arctic nations," says Murkowski. "I personally believe that America should lead the way. The Arctic is crucial to our entire nation's future, and we can no longer rely solely on private companies to bring investments in science and infrastructure to the region. As the Arctic continues to open, we urgently need to accelerate our national security investments in icebreakers, ports, and other necessities."
Some Congressional opponents of Arctic drilling applauded Shell's move. Senator Jeff Merkley (D-OR) called offshore Arctic drilling "unacceptable" and irresponsible. Rep. Jared Huffman (D-CA) went so far as to introduce the Stop Arctic Ocean Drilling Act of 2015, which would prohibit new or renewed oil and gas leasing in the Arctic Ocean Planning Areas of the Outer Continental Shelf.
But this should probably be viewed more like a pause as opposed to a full stop. A more favorable regulatory environment for Arctic offshore drilling could develop if a Republican is in the White House in 2017 backed by a Republican-controlled Congress. Additionally, cheap oil and gas should also increase consumption and eventually lead to higher prices and make Arctic drilling more economically attractive.
---
 Shipyards, naval architects team on projects
Portland, OR, headquartered Vigor Industrial, the largest shipyard group in the Pacific Northwest with 12 facilities in Alaska, Washington, and Oregon, had bolstered its capabilities in anticipation of an increased workload. It added an 80,000-ton lifting capacity dry dock to enhance its ship repair and maintenance capabilities and merged with Kvichak Marine Industries, Seattle, WA, to add capabilities in new aluminum vessel construction. Vigor had supported Shell's earlier efforts in Alaska, including the activation of the drilling barge Kulluk, and more recently repaired the damaged icebreaker Fennica.
Vigor is part of a vibrant Washington State maritime cluster that includes logistics and shipping, fishing and seafood, and shipbuilding and repair. According to a recent economic impact study, generated 148,000 direct and indirect jobs and directly creates $15.2 billion in gross business income and has a total impact of $30 billion on the state's economy.
Back in March, Vigor "christened" its dry dock Vigourous with work on the cruise ship Norwegian Star and followed that up with repairs to the USNS John Glenn and USNS Montford Point. Now Vigor will turn its attention to completing the third Olympic Class 144-car ferry for Washington State Ferries and look forward to building the fourth in the series, which recently received $122 million in funding by the state legislature. There's plenty of more coverage on the ferry market in this issue, including Seattle-based Elliott Bay Design Group's support of ferry projects for the New York City Department of Transportation and Texas Department of Transportation.
Special launch system
Designed by Seattle-based naval architectural firm Guido Perla Associates, Inc., the144-car ferry is a joint construction effort between Vigor and neighboring Nichols Brothers Boat Builders, Whidbey Island, WA. Nichols Brothers Boat Builders has been contracted to build the superstructure for the first three Olympic Class ferries. Nichols Brothers Boat Builders has used a new track and dolly system developed by Engineered Heavy Service (EHS), Everett, WA, for transferring the ferry superstructures it on to a barge for transport to assembly with the hull at Vigor Fab in Seattle.
That same transfer system is pictured on this month's cover, to launch the ATB tug Nancy Peterkin, the first of two 136 ft x 44 ft x 19 ft sister ATB tugs being built for Kirby Offshore Marine.
This past May, Gunderson Marine, Portland, OR, had launched the Kirby 185-01, a oil & chemical tank barge.
The Nancy Peterkin's sister ATB tug, the Tina Pyne, is set for launch this December.
The EHS launch system moved the ATB from the shipyard to the launch ramp. General Construction provided two floating cranes to assist in the final lifting of the vessel, shuttling it to deeper water.
The vessel was towed to Everett, for lightship, stability testing and fuel transfer. Following this the tug will be towed to Nichols Brothers outfitting pier in Langley, WA, located across the Puget Sound from Everett, WA, for final outfitting, dock and sea trials before its final delivery.
Used for vessels greater than 1,000 tons, the new launch system significantly increases the displacement and draft of the vessels that Nichols Brothers can haul and launch in the future. Currently the shipbuilder is engineering to install ridged buoyancy tanks to the side of the launch frame, eliminating the need for the floating cranes in the future.
Nichols Brothers followed up the launch with the signing of a construction security agreement with Kirby Offshore Marine to build two new 120 ft x 35 ft x 19 ft-3 in tugs. Each tug will be powered by two Caterpillar 3516C, 2,447 bhp at 1,600 rev/min main engines with Reintjes reduction gears turning two NautiCAN fixed pitched propellers with fixed nozzles. Karl Senner, Inc., Kenner, LA, supplied the reduction gears for the vessel. These vessels will also have two C7.1 Caterpillar generators for electrical service. Selected deck machinery includes one TESD-34 Markey tow winch, one CEW-60 Markey electric capstan, and one Smith Berger Tow Pin.
Keels will be laid for both vessels this fall with delivery of the first vessel scheduled for May 2017 and the second vessel is scheduled for delivery in November 2017.
Jensen Maritime Consultants, Seattle, the naval architectural and engineering arm of Crowley Maritime, will provide the ABS Class and functional design for the tugboats. These tugboats will carry an ABS loadline, compliant with USCG, as required at delivery.
Nichols Brothers is currently working on the second ATB Tug for Kirby Offshore Marine.
Nichols Brothers spokesperson Lacey Greene says the shipyard has just begun construction of the American Samoa 140 ft Multi-Purpose Cargo/Passenger Ferry, and next year will begin construction on the superstructure and final assembly of the WETA 400-passenger high speed catamarans.
"The vessel construction boom in the Pacific Northwest has impacted the economy in so many different ways," says Greene. "Specific to our location our community is flourishing. Nichols Brothers is the largest private employer on Whidbey Island in Washington State and employs 300 men and women. We foresee the economic boom expanding even further; the tug market is strong in all aspects, from ATB tugs, tractor Tugs, to line tugs. We also see the passenger vessel industry sector thriving, and we predict additional passenger only high-speed ferries coming down the pipeline as well as leisure vessels."
---
 Jensen Maritime is also providing construction management services for the Crowley product tankers under construction at Aker Philadelphia Shipyard. It's also been busy working on developing LNG bunker barge concepts and recently received approval from ABS for a 452 ft-long ATB version.
Engineering consultant Art Anderson Associates, Bremerton, WA, has been increasing its staff and supporting the development of passenger-only ferry service in Puget Sound. Art Anderson's Patrick R. Vasicek, PE, LEED AP, will be on hand at the Marine Log FERRIES 2015 Conference & Expo in Seattle to discuss, "An Exportable Life Cycle Assessment Tool for Determining Sustainable Visibility of Passenger-Only Ferry Routes and Systems."
Ballast water treatment solution
Seattle-based naval architectural and engineering consultancy Glosten reports that Marine Systems Inc. (MSI) has delivered a pair of Ballast Treatment System Deck Modules, designed for tank barge and ship operations.
MSI turned to Glosten to develop the design in response to requests from vessel operators and the first of a kind modular ballast water treatment units combine expertise from Glosten, MSI and Alfa Laval, which provided PureBallast 3.1 treatment systems, Filtrex high efficiency filters, and expertise from hundreds of ballast water management system installations.
The resulting modules, built at the Foss Seattle Shipyard, complete with lighting, ventilation, and integrated controls, were shipped ready for "plug-and-play."
Each Ballast Module packs a treatment capacity of 1,000 m3/hr within a 20-foot shipping container footprint and is ABS and U.S. Coast Guard approved for hazardous area installations.
Using the module reduces the technical demands on busy shipyards. Rather than juggling independent components and vendors, shipyards can instead focus on fabricating a few well-defined interfaces and foundation system. Each purchased module comes pre-approved by USCG and ABS, is fully tested prior to shipment, and includes integration support from MSI and Glosten engineers.
"The demands of the vessel operator drove this design," says Kevin Reynolds, Principal at Glosten. "Doing this as a manufactured product ensures that we get it right, every time."