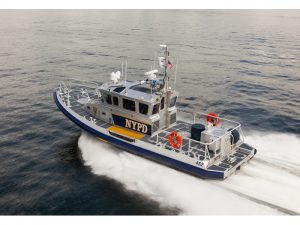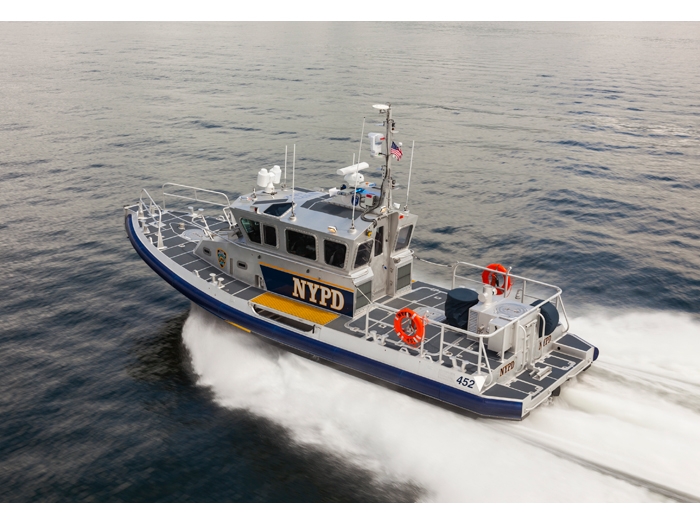 It's no secret that the oil and gas sector is having a major impact on the industry with orders down at the larger shipyards and operators stacking their OSVs. Small boat builders, however, are thriving, remaining busy, and producing the hardest working vessels on the water, patrol boats and workboats.
Metal Shark, for example is in the midst of producing large work orders of patrol boats for a number of government agencies both in the U.S. and across the world. This year alone, Metal Shark, Jeanerette, LA, delivered multiple variants of its Endurance-class catamaran in the form of fireboats, multipurpose port security boats and Dive Support Vessels.
Back in March, the U.S. Navy awarded a $15,309,410 firm-fixed, indefinite-delivery/indefinite-quantity contract to Metal Shark to build 7-meter rigid hull inflatable boats (RHIBs) in support of Foreign Military Sales (FMS) requirements. Options could increase the contract value to over $47 million.
The RHIBs will support a variety of missions including personnel/cargo transfer, search and rescue, open water patrol, vessel interdiction and boarding, and the insertion/extraction of forces. Metal Shark says the boats will be produced in a flexible baseline configuration that can quickly be adapted via minor post-delivery alterations and delivered to support specific FMS case requirements worldwide.
At the time of the contract announcement, Chris Allard, President, Metal Shark said, "Large orders such as this one benefit Metal Shark customers large and small by way of increased production efficiencies and economies of scale that keep our pricing competitive, our workforce stable, and our technology on the leading edge."
Currently, Metal Shark is producing boats for the U.S. Coast Guard's RB-S and ATON-M program; and the U.S. Navy's FPB-M and HSMST program.
This past August, the U.S. Coast Guard awarded Metal Shark with a $17.45 million delivery contract for 48 Response Boat-Small II vessels. The 29-ft high-speed RB-S IIs can reach a top speed of 40 knots, and are designed and engineered to handle a wide range of coast guard missions near the shoreline. Among them: search and rescue; law enforcement; ports; waterways and coastal security; drug and migrant interdiction; and environmental protection and response.
New yard helps meet demand
Metal Shark's yard in Franklin, LA—acquired last year— enabled the company to expand the size of its vessel offerings, with the new yard supporting the construction of vessels up to 250 ft in length.
Recently, Metal Shark's Franklin yard delivered a 75 ft welded aluminum multipurpose port security vessel to the Port of South Louisiana. Based on Metal Shark's Endurance-class catamaran design, the vessel features technology to support fire rescue missions, Command and Control (C2) operations, and around-the-clock port security efforts at the largest tonnage port in the western hemisphere.
The Port of South Louisiana stretches 54 miles along the Mississippi River, and handled over 291 million short tons of cargo in 2014 alone. According to the port, 4,000 oceangoing vessels and 55,000 barges call at the Port of South Louisiana each year.
"Our 75 Endurance is the most advanced fireboat design on the market, incorporating crew friendly features and advanced systems throughout," says Allard. The vessel is powered by twin Cat C-18 diesel engines generating cruising speeds of 25 knots.
To meet firefighting needs, the 75 Endurance can channel 6,000 total gallons per minute through an oversized water main where electronic valves divert water to three radio frequency-controlled monitors. Additionally, the vessel includes four hydrant connections and a 400-gallon foam reservoir.
Its state-of-the-art Command and Control suite enables multi-agency coordination during emergency response events, and a positive pressure Chemical, Biological, Radiological, Nuclear, and high-yield Explosive (CBRNE) ventilation system that can provide crew protection during disaster responses.
Metal Shark has also delivered a number of FMS boats to government agencies worldwide, including 32 Defiant patrol boats to Uruguay, 38 Defiant patrol boats to Bangladesh, and 38 Defiant patrol boats to Senegal.
The boat builder's Defiant class is among its most popular models, and at this month's International Workboat Show, Metal Shark will showcase its new 45 ft Defiant variant, which fills the gap between Metal Shark's 38 ft and 55 ft Defiant class offerings. Metal Shark is currently producing multiple 45 Defiant vessels for Vietnam. The vessels are part of a larger FMS contract for Vietnam.
Earlier this year, U.S. Secretary of Defense Ash Carter announced that the U.S. would provide $18 million to Vietnam to help the country acquire patrol boats specifically built by Metal Shark. At a press conference held during his trip to Vietnam, Carter said both countries are "committed to deepening our defense relationship, and laying the groundwork for the next 20 years of our partnership." He further added that by working together, the two countries will "continue to strengthen the region's security architecture so all our countries and others all around the region can continue to rise and prosper."
To say that Metal Shark is a little busy would be a gross understatement. The secret to its success is its willingness to be flexible and attentive with its customers. "Being able to simultaneously accommodate multiple markets is a significant factor in our success," explains Allard. "There are some yards that focus on fireboats, others on pilot boats, or patrol boats. We're active— and enjoying success—in all of those markets. More important than our product range, however, is having the ability to anticipate our customers' needs by closely observing market trends, by maintaining relationships with existing customers, and by responding to their feedback. When a new client walks through the door we greet them with ready-made solutions, and we're willing to work with them to modify our offerings if their needs require it.  Our designs are constantly evolving, so having a large in–house design team is crucial, because it allows us to move far more quickly than yards relying solely on outside firms."
Marine Group Boat Works stays busy
For California's Marine Group Boat Works, the key to flourishing during a rough market environment is the willingness to diversify its business. "Our vision was to bring custom boatbuilding back to California," says Todd Roberts, President, Marine Group Boat Works. Roberts says the company's extensive history with boats has given it a "360-degree perspective" on how it approaches a project, and because it offers both newbuild and repair services, it is with the customer from "cradle to grave."
The family-owned shipbuilding and repair company has three yards, two in Chula Vista and National City, San Diego, CA, and one in San Jose del Cabo, Mexico.
Marine Group's yard "is running at 95 to 100 percent capacity," according to Roberts, with a full order log for its workboats and dive boats in the works, and delivery expected over the next five years.
That full order book is the result of a major U.S. Navy contract the yard won earlier this year for the construction of 27 new vessels worth over $45 million. The contracts were for five steel tugboats; six large steel workboats; 16 aluminum 60 ft diveboats. "Multi-year, multi-vessel contracts are what our economy needs," says Roberts.
According to Roberts, the first two of the smaller workboats for the Navy are near completion and will be delivered early 2016.
Kvichak constructing fourth RB-M C for NYPD
In spring 2016, the New York City Police Department Harbor Unit will take delivery of the fourth in a series of 44.5 ft Response Boat Medium-C patrol vessels being built for the agency by Seattle-based Kvichak Marine Industries. Kvichak, now a Vigor Company following the two companies merger earlier this year, delivered the first three RB-M Cs in April 2010, August 2012 and April 2013, respectively.
Originally, the Response Boat Medium class was designed by Camarc Design, UK for the U.S. Coast Guard's new RB-M fleet. The RB-M class—which replaced the Coast Guard's 41ft utility boats—featured a total of 174 boats built and delivered by the RB-M team, comprised of Kvichak and Wisconsin-based shipbuilder Marinette Marine. The final vessel in the 174-RB-M series, the RB-M 45774, was delivered to the U.S. Coast Guard this past March.
Designed with speed in mind, the RB-M features an all aluminum construction; a deep V hull for balance and stability— helping improve and increase response time; and can travel at a speed up to 42.5 knots, and operate a 250 nautical mile range at 30 knots.
The commercial spin off of the class, the RB-M C features the same high-speed flexibility and agility, but with additional customizable features. For example, the NYPD RB-M C features a heated deck, and the RB-M C delivered to Los Angeles County in 2013 has a roof mounted RS-700 Gamma/Neutron Radiation Detection System.
The NYPD RB-M C will be powered by Tier 2-compliant Detroit Diesel 60 series engines. Its propulsion will be supplied by Rolls Royce Kamewa FF375S waterjets. The vessel will also come equipped with a Furuno Navnet system, SeaFLIR Voyager III system and Kohler 9kW genset for AC power. Its climate controlled pilot-house, cabin and heated windows offer the crew protection from the elements.
Kvichak's ability to produce high quality aluminum patrol and workboat vessels was one of the reasons Vigor hoped to merge with the small boat builder. At the time of the merger, Vigor CEO and owner Frank Foti said, "The Kvichak team builds the best aluminum workboats in the country, arguably the world. Infusing those fabrication genetics into our broader operations is what industrial evolution is all about."
Silver Ships delivers rescue boat to Southampton
East of New York City, the coastal town of Southampton, Long Island, will be safer thanks to the newest member in the NY/Southampton Bay Constables fleet. Alabama-based Silver Ships, Inc., recently delivered the 21-foot center console all-aluminum patrol/rescue boat to the operator. The Freedom 21 vessel will be used for patrol, rescue, homeland security, and law enforcement purposes around the town of Southampton—the town is surrounded by a number of inland waterways, as well as Shinnecock Bay, and the Atlantic Ocean.
"The Freedom 21 Law Enforcement Vessel is sure to be a tremendous long-term asset for the Southampton Bay Constables and will be available [for] year round operation," said Silver Ships' Malcolm Wisch. Designed by naval architect Lou Codega, PE, Smithfield, VA, the vessel features an all-aluminum hull and superstructure making it both durable and rugged. Freedom 21 was engineered specifically for one-man operation. It features an upholstered leaning post with gun and storage lockers, as well as an ergonomically-designed helm area with seat bench/storage box on the forward side of the console.
Silver Ships will follow up the delivery of Freedom 21 with another vessel for Southampton Bay Constables, Freedom 25, which is currently under construction. Freedom 25 will feature a full pilothouse that is climate controlled, and will have CBRNE capabilities.
Gladding-Hearn delivers new generation of boats
Colombia is making a come back. Tourism is on the rise for the South American country as its violent history fades and the country's lands and vibrant culture take center stage. One way Colombia is making its lands safer is by putting patrol boats in its waters—the country borders the Pacific Ocean to the west and the Caribbean Sea to the northeast. To help meet that goal, in 2014 the Colombian Department of the Navy called upon Massachusetts-based Gladding-Hearn Shipbuilding, Duclos Corporation, to build and deliver six Chesapeake Class pilot boats.The final vessel in the series was delivered to the Colombian Navy earlier this year.
Designed by C. Raymond Hunt & Associates, the 56 ft boats, which are being used for coastal and offshore patrol operations and port security, feature an all-aluminum deep-V hull and are powered by twin MAN R6-800CRM diesel engines each delivering 800 Bhp at 2,300 rev/min, and capable of reaching a top speed of 27 knots.
C. Raymond Hunt & Associates also provided the design for a new generation of pilot boats recently delivered by Gladding-Hearn to the Tampa Bay Pilot Association—the Chesapeake Class MKII. The vessels, a spinoff of the Chesapeake Class, feature improved performance thanks in part to the addition of Volvo Penta's IPS 2 pod system.
"This new generation of Chesapeake launches, named Chesapeake Class MKII, is equipped with the IPS 2 pods, which provide what pilots have been asking for: higher speeds, lower fuel consumption, and more comfort," says Peter Duclos, President of Gladding-Hearn.
The new generation boats are powered by twin Volvo Penta D11, six-cylinder, EPA Tier 3 diesel engines, each producing 503 Bhp at 2,250 rev/min. Volva Penta's integrated EPS electronic steering and control system, along with the three-axis joystick increases the pilot boat's overall maneuverability when docking alongside another vessel.
The inclusion of a Humphree Interceptor automatic trim-optimization system gives the pilots higher speeds and improved comfort, while burning 25 percent less fuel than similar Chesapeake Class launches, says Duclos.
Prior to its delivery of the Tampa Bay Pilot boats, Gladding-Hearn delivered the second in a series of 70 ft Tactical Response Vessels to New York City's Harbor Patrol Unit. The vessels, says the yard, are designed and built to respond to terrorist activities on New York City's waterways. The all-aluminum vessel's superstructure includes a 360 degree wheelhouse, further enhanced by the fly-bridge which has ballistic-resistant windows and panels. The vessels also feature two decontamination showers; an American Safe Room Nuclear, Biological and Chemical (NBC) filtration system to help pressurize the vessel's accommodation spaces; and a 1,500 gallons/min remote control water cannon mounted on the pilot house roof.
Powered by twin 12-cylinder MTU-12V2000M94 diesel engines, the vessel can reach a top speed of over 41 knots, and at 30 knots a range of about 225 miles. The MTU engines turn a pair of Hamilton HM571 waterjets through ZF3050 gearboxes. Meanwhile, a 30 kW Northern Lights/Alaska Diesel generator provides service power.
Additionally, Gladding-Hearn completed the delivery of a five-boat contract for the NYPD. The 61 ft high-speed dive boats were specifically engineered for the NYPD's harbor unit dive team.
Willard unveils new Sea Force
California-based Willard Marine, Inc. has debuted its new Sea Force 777. The 7.7 m long military-grade, fiberglass, rigid hull inflatable boat (RHIB) can be used for a number of blue water missions including rescue, patrol and visit/board/search and seizure.
The RHIB is designed with a deep-V hull to maximize stability. Sea Force 777 will feature a UV-coated, 40-ounce polyurethane WING inflatable collar, with a 7-panel bow cover and rub-strakes to reduce damage during boarding and weight shifting.
The Sea Force 777 is a larger version of Willard's military-grade RHIBs. The vessel is customizable, and can be made in aluminum; additionally, Willard says it can accommodate a variety of seating configurations, law enforcement equipment, electrical packages, weather protection, and navigation devices.
On the heels of the new Sea Force debut, Willard Marine won a contract from the National Oceanic Atmospheric Administration (NOAA) to build a modified version of its Sea Force 730 RHIB. The 20 ft RHIB will be operated by the Pacific Island Fisheries Science Center.
The vessel will perform fisheries and marine mammal research, including collecting samples, remote sensing survey, and marine mammal population surveys throughout the Pacific region. Vessel delivery is scheduled for Summer 2016.
Willard Marine was also tapped to construct three 28-ft aluminum Hydrographic Survey Launch Ships (HSLs) for NOAA. The HSLs are based on former SeaArk Marine's commercial boat design—Willard Marine is the exclusive builder of SeaArk Marine designed commercial vessels—and the HSLs will add flexibility and autonomous capability to NOAA's fleet.
The HSLs will be used on waters off the U.S. coast to conduct oceanographic surveys with hull-mounted and towed sonar units. Power will be provided by a Cummins QSC8.3 engine capable of generating 510 hp with a ZF Marine 305-2 transmission.
Two of the vessels will be built for NOAA's 208 ft Thomas Jefferson; and the other boat will be built for the 231 ft NOAA ship Rainier. The two ships are used to conduct hydrographic surveys to update NOAA's suite of nautical charts.
The HSLs will be delivered to NOAA during the Fall of 2016.
Moose Boats delivers M2-32 Cat
Moose Boats' M2-35 catamaran design is often a popular choice for agencies looking to add speed to their fleet. One such operator is the Placer County Sheriff's office, Lake Tahoe, CA, which will soon take delivery of an M2-35 patrol catamaran. The M2-35 vessels are powered by twin Yamaha F350 outboards enabling the vessel to reach speeds up to 45 knots.
Earlier this year, Moose Boats completed and delivered two M2-35 outboard catamarans to the Port Authority of NY/NJ. Those two vessels would be used in patrol and rescue missions.
Beyond the M2-35, Moose Boats is expanding its monohull line up, making further developments to its M3-30. According to Moose Boats General Manager Stephen Dirkes, the design features a slightly narrower cabin that allows crew to walk around the cabin for easy access to the bow. The hull's length was also reduced to under 30 ft, making it a perfect fit for one-man operation. The M3-30 has undergone rigorous testing by law enforcements in both coasts, where it topped speeds of over 45 knots.
Brunswick delivers workhorse to Wildlife Commission
Florida Fish and Wildlife Commission recently took delivery of the first-of-its-kind 30 ft Sentry aluminum boat from Brunswick Commercial and Government Products (BCGP).
The new Sentry model is part of BCGP's aluminum boat line up and complements the already existing Sentry line up which includes 32 ft, 36 ft, 40 ft and 45 ft variants.
The line up is the result of a Master Supply Agreement between BCGP and Canada-based MetalCraft Marine.
"This new [Sentry] platform was designed to accommodate many features needed in the maritime security industry," said BCGP's Jeremy Davis. "Whether the mission is port security, game conservation or the safety of recreational boaters, this vessel can easily be customized to fit the needs of law enforcement agencies around the world."
The Sentry class is designed with port security and patrol missions in mind. It features a forward cuddy cabin, computer workstation and lockable weapon storage.
North River Boats produces Valor for Fire and Rescue missions
Up in Roseburg, OR, North River Boats recently delivered a new 38 ft fireboat to North Kitsap Fire and Rescue. Based on North River's Valor design, the vessel is capable of generating top speeds of up to 35 knots and maintains a cruising speed of 25 knots.
The vessel, says North River, comes fitted with a Kem Equipment, Kodiak 6.0L fire engine, coupled to a Hale 60FBM Fire Pump System that delivers up to 2000 GPM from the two monitors.
On the vessel's bow is a Task Force Tips (TFT) remote operated monitor that provides crew with firefighting suppression—the adjustable nozzle enables the operator to quickly go from fan to full stream.
Additionally, Simrad displays and the Simrad digital radar, GPS, Wireless Intercom/Headset System; an Icom M604 VHF radio and a FLIR M 625L thermal imaging camera are featured on the vessel.