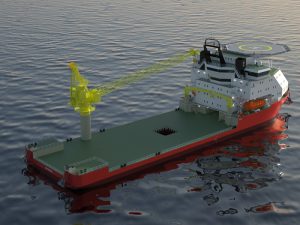 It says the main driver for the new 115.4 m x 30.8 m S182 design was to develop a "very CAPEX friendly" DP vessel with good capabilities to support various offshore operations, including cable lay and offshore construction.
The result is described as "a very versatile workhorse" that is capable of shallow water DP operations (at 4.5m draft) including beaching.
The design features a large open work deck that can accommodate up to 30 m ø carousel, a large cargo hold below deck and approximately 10,000 DWT capacity. A main offshore crane of up to 400 t can be located in the side of the vessel, while a passage way below main deck between the aft casings and accommodations avoids people having to cross the open work deck.
The vessel is capable of supporting a wide variety of operations:
Cable laying
Offshore construction
Shallow water installation
Dive support
Rock installation
Salvage works
Main particulars are:
Loa                             115.4 m           
Beam (molded)              30.8 m          
Depth                             8.4 m          
Draft (operational)           5.0 m
Deadweight             about 10,000 t
Speed                                 9 knots
Installed power             2 x 2,880 kW                                  
                                   2 x 1,920 kW
Positioning                   DP2                                  
                                  4-point mooring
Deck strength              15 t/ m2
Deck space                  2,000 m2
Cargo hold                      850 m2
Complement                    140 p (2 p cabins)                                        
                                       240 p (4 p cabins)