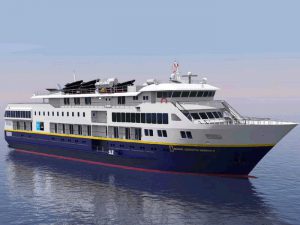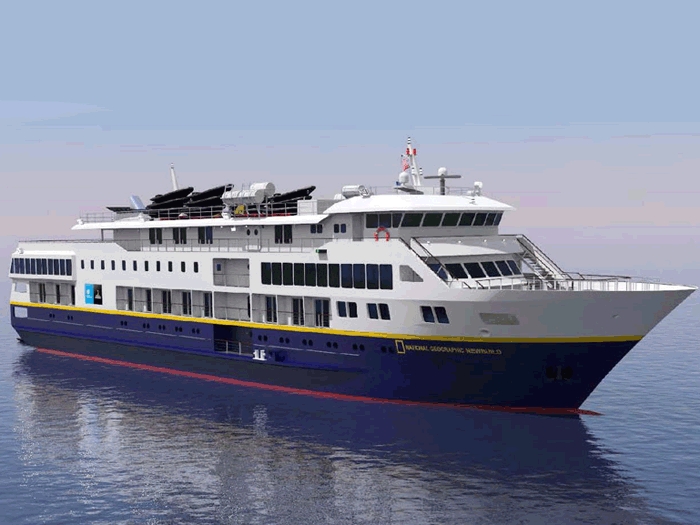 The cruise industry is seeing an increase in newbuild activity thanks to heightened demand from the Chinese market, and entrance into the ocean cruise market from a number of new enterprises. Beyond announcing its new social impact cruising brand, Fathom, Carnival Corporation & plc is increasing its stake in the Asian market announcing that four of its brands will operate out of the region.
Carnival sees China developing into "the world's largest cruise market based on surging demand for cruise vacations," according to Carnival. Under its current plan Carnival Corp. will serve the Chinese market with Carnival Cruise Line, AIDA Cruises, Costa Cruises (Costa Asia) and Princess Cruises.
The cruise giant ended 2015 by signing an agreement with Fincantieri S.p.A. to build four new ships, including two for Costa Asia for deployment in China. In total, Carnival Corporation has a total of 17 new ships on order and scheduled for delivery between 2016 and 2020.
Carnival Corp. isn't alone in its Chinese ventures. Norwegian Cruise Line Holdings (NCLH) has also announced its entry into the China cruise market—with its first purpose-built customized cruise ship for its Norwegian Cruise Line brand. The ship is slated for entrance into the region in 2017.
The Breakaway Plus-class vessel will have capacity for 4,200 guests and will be "designed specifically for the China market with accommodations, cuisine and onboard experiences that cater to the unique vacation preferences of Chinese guests," according to NCLH. Furthering its support of the company's expansion efforts in China, NCLH opened a number of offices in the country in order to support all three of its brands growth in the region—Norwegian Cruise Line, Oceania Cruise and Regent Seven Seas Cruises.
Newcomers enter the market
Sir Richard Branson, founder of the Virgin Group, is no stranger to new ventures. The billionaire businessman has had his hands in everything from the record industry to telecommunications to airlines.
Extending his reach further into the transportation sector—the Virgin Group operates an international airline as well as trains in the UK—Branson and his group are now entering the oceangoing cruise market with the launch of Virgin Cruises—a joint venture with Bain Capital. The goal for Virgin Cruises is to "shake up the cruise industry and deliver a holiday that customers will absolutely love," said Branson after the announcement of Virgin Cruises was made.
Leading Virgin Cruises is CEO Tom McAlpin who is no stranger to the cruise market having previously served as President of Disney Cruise Line.
Since its launch, Virgin Cruises has announced that it has signed an agreement with Fincantieri to build three mid-size 110,000- gross ton cruise ships, with delivery set for 2020 through 2022. The ships will each feature accommodations for 2,800 guests and 1,150 crew.
Virgin Cruises also announced that it has partnered with PortMiami, where the ships will homeport and depart from for seven-day itineraries to the Caribbean.
With the tag line of "Let's Make Waves," Virgin Cruises is offering its customers the unique opportunity to have a say in shaping the new cruise line. "Virgin is a customer-built brand that listens carefully to what customers want and then works hard to deliver for them," said McAlpin. "We are committed to making waves in the cruise industry, and partnering with Fincantieri and PortMiami sets Virgin Cruises up to do just that."
Meanwhile, a fairly recent newcomer to the ocean going cruise market, Viking Ocean Cruises, a spin off of the Viking River Cruises brand, took delivery of the Viking Star last year—the ship is the first in a series of three being built by Fincantieri for the brand. The two remaining ships, the Viking Sea and Viking Sky are scheduled for delivery in 2016 and 2017, respectively.
Lindblad orders two from Nichols Brothers
A merger deal completed last year between Lindblad Expeditions and Capitol Acquisition Corp. III has breathed new life into the Lindblad fleet. Linblad Expeditions, a long-time expedition partner of National Geographic, recently signed a deal with Nichols Brothers Boat Builders for the construction of two U.S.-flagged coastal vessels.
The vessels are to be built at a purchase price of $48 million and $46.8 million, respectively, and will be designed by Seattle-based Jensen Maritime, Crowley Maritime's naval architecture and marine engineering arm.
"These new ships mark an exciting step in the long-term growth of the company and enable us to capitalize on the substantial demand for our expeditions," said Sven Lindblad, President and CEO of Lindblad. The new ships also help mark an important milestone for Lindbland as it is "the 50th anniversary of the birth of expedition travel begun by my father, Lars-Eric Lindblad," added Lindblad.
One of Lars-Eric's ultimate goals was to create an experience for passengers that would take them to places no tourists had gone before—and with that trip produce experiences that would help establish an understanding and appreciation for those remote places.
These new ships, in particular, will conduct tours between Baja, Costa Rica and Panama during the winter months and southeast Alaska, Oregon, Washington and Canada during the summer months.
Shipbuilder Nichols Brothers Boat Builders is no stranger to working with the Lindblad brand. The shipyard built the operators current U.S.-flagged ships, the National Geographic Sea Lion and National Geographic Sea Bird, back in 1982.
The new 238 ft vessels, will be built with the same explorer spirit in mind, but will be "larger, more comfortable accommodations for 100 passengers," says Gavin Higgins, Chief Executive Officer, Nichols Brothers Boat Builders (pictured).
The twin-screw diesel ships will include 50 cabins, an outdoor walkway around the entire sun deck, a fully equipped fitness room and Wellness spa; and a number of dining and entertainment facilities. Additionally, the ships public spaces will be designed to provide maximum viewing of the vessel's surroundings.
The shipyard is hiring 40 additional workers to help work on the vessel, and making additional modifications to its launch system to accommodate the vessels' length and capacity, says Higgins.
The new expedition cruise vessels will feature state-of-the-art expedition technology, including a remotely operated vehicle, video microscope, and a hydrophone and bow-cam designed for immediate bow deployment to hear and film marine life, such as whales and dolphins.
The ships will also be equipped with a state-of-the-art A/V system for high quality presentations, including National Geographic instruction.
Before the new ships are built, however, Jensen will provide a 3D model detailing all of the structural, electrical, mechanical and HVAC systems of vessels. The full-size 3D computer model will enable Lindblad to assess and confirm the vessels layout and will also help ensure the vessels' safety, maintainability and constructability.
The first new ship is scheduled for delivery second quarter of 2017, followed by the second vessel in 2018.