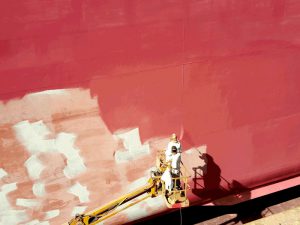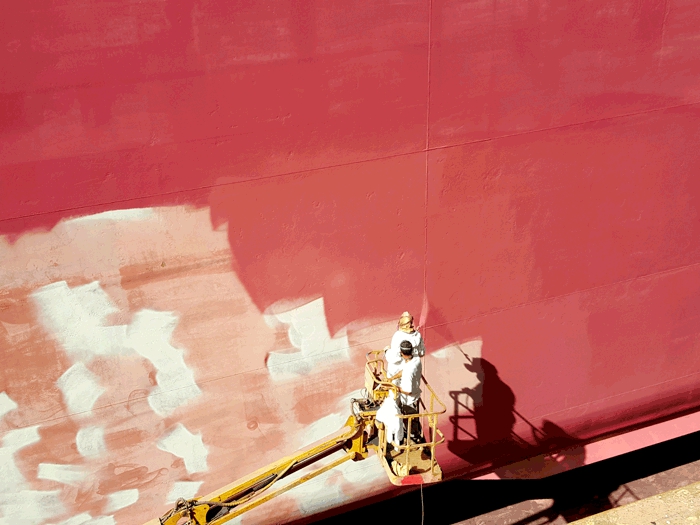 Getting a return on investment (ROI) is more important than ever in today's challenging business climate. A new standard soon to be released for measuring changes in ship hull and propeller performance should provide an important tool for hull coatings manufacturers to demonstrate ROI to shipowners.
"Poor hull and propeller performance is estimated to account for around 10 per cent of the world fleet's energy costs ($30 billion)," says Geir Axel Oftedahl, Jotun's Business Development Director, Hull Performance Solutions.
Oftedahl believes that the new ISO 19030 standard, which prescribes practical methods for measuring changes in ship-specific hull and propeller performance, "will provide much needed transparency for both buyers and sellers of fuel saving technologies and solutions, and, in doing so, enable the industry to operate with genuinely enhanced efficiency and environmental performance."
Since 2013, Oftedahl has been working with a group of experts on developing the standard. ISO 19030 expected to be publically available this year.
Jotun will now switch from using its own methodology for gauging performance to the ISO 19030 standard to ensure that the HPS offering is fully compliant.
Hull Performance Solutions (HPS), which was launched in 2011, combines the use of SeaQuantum X200 silyl methacrylate antifouling coating technology with a full suite of sensors to measure hull performance and speed loss.
Jotun offers a guarantee, promising to refund customers the cost of the HPS upgrade if their vessel hulls failed to meet performance targets.
This past March, Jotun released data for its first five-year dry-docking of a vessel treated with HPS. Gearbulk's Penguin Arrow recorded a fuel saving of $1.5 million, cutting CO₂ emissions by some 12,055 tonnes, across the 60-month period.
www.jotun.com
SHIPOWNERS CAN GET CARBON CREDITS
Meanwhile, AkzoNobel's marine coatings brand, International, has pioneered a different approach for incentivizing shipowners to switch from a biocidal antifouling system to a biocide-free hull coating: carbon credits.
The methodology financially rewards ship owners for using sustainable hull coatings that improve efficiencies and reduce emissions.
Earlier this year, Greek tanker and bulker operator Neda Maritime Agency Co. Ltd. was the first shipowner awarded carbon credits through AkzoNobel's plan. Neda received 13,365 carbon credits, potentially worth $60,000.
The carbon credits were accrued by the tanker vessel Argenta, which was converted from a biocidal antifouling system to a premium, biocide-free advanced hull coating from AkzoNobel's Intersleek range –part of the company's International brand –that is proven to reduce fuel consumption and CO2 emissions on average by 9%.
Costas Mitropoulos, Technical Director at Neda Maritime, said: "As the shipping industry faces more pressure to improve its sustainability, we continue our commitment to further increase our environmental performance standards. To that respect we see a great potential in AkzoNobel's pioneering carbon credits initiative as part of our strategy to deliver sustainable and successful business."
www.international-marine.com
NEW THERMOPLASTIC COATING
Another form of ROI is a long-lasting, durable product. That's certainly been the case for Tefcite, a broad spectrum antifoulant powder coating that provides a corrosion resistant barrier to fiberglass, FRP, steel, carbon fiber, aluminum and wood.
Tefcite has been successfully marketed to recreational boaters and J. Zach Hall, President of Bay Area Thermo Coatings, LLC, Vancouver, WA, sees potential for Tefcite in the commercial marine market. "We believe there is tremendous value to be gained protecting and maintaining marine assets for the commercial marine sector," says Hall. "In fact, we currently have commercial marine end users interested in the product and are getting traction coating aluminum and steel vessels."
Tefcite, which has a continuous service life of 15+ years, was approved by the EPA in May 2014 for use as a copper containing anti-foulant on the West Coast in Oregon and Washington, with California product registration pending.
California, known for being on the green bleeding edge, has the most striongent regulations regarding the copper leach rate from anti-foulings. Tefcite has a copper leach rate of 13.5 micrograms per centimeter squared per day, which is the maximum rate allowed by California.
Tefcite is applied using a specialized mobile thermal spray system process called High Velocity Impact Fusion.
www.baythermo.com