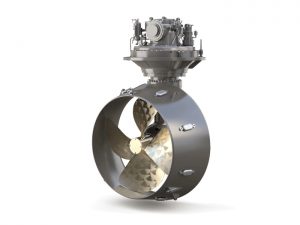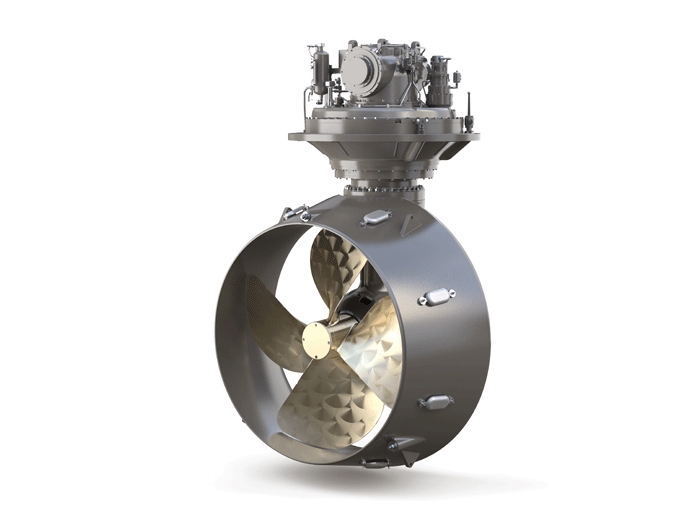 The International Workboat Show in New Orleans, LA, offers the marine industry an ideal time to not only assess the current state of the industry, but also an opportunity to view some of the newest technologies, products, and services. With stricter emissions regulations coming into play in 2016 and operators strongly focused on efficiency and the bottom line, this year's show saw a number of new power and propulsion technologies unveiled. GE Marine, for example, extended its EPA Tier 4 engine series to include 16- and 12-cylinder V-models, an 8-cylinder inline model, and a 6-cylinder inline model that is currently planned for development.
GE says the engine series meets the Environmental Protection Agency's (EPA) Tier 4 emission standards without the use of urea after-treatment, while maintaining fuel efficiency and service intervals. In addition, the engines have a faster response time to load steps, and a Maximum Continuous Rating (MCR) that is 12 percent higher than their Tier 3 compliant predecessors. 
Coastal tug and barge operator Reinauer Transportation purchased two 12V250MDC Tier 4 diesel engines for its new Articulated Tug Barge (ATB) unit under construction at Senesco Marine in Kingstown, RI. One of the engines was displayed at GE's booth at the Workboat Show.
"We chose the new GE Marine engines because we like their robust design and component configuration," says Christian Reinauer. "The engine closely matches the footprint of our current vessel design. This limits the amount of re-engineering while meeting Tier 4 emissions requirements without the complications of urea after-treatment."
GE's Marine Product Manager Rob Van Solingen says the engines offer several advantages as compared with engines that use an SCR-based emission control system.
He says that the GE Tier 4 engines are less complex, allowing ship designers to develop engine rooms that make the most efficient use of space. This reduction in complexity also translates into improved labor efficiency at shipyards.
The engines also offer space and weight savings, since there is no large SCR reactor system in the exhaust piping of each engine nor any urea tank, dosing equipment, monitoring/control systems, and related piping, and air supply system required.
"Depending on size and urea quantities, space and weight savings of the engine and complete SCR system with all components and urea tanks can save up to 75% on each when compared to the GE T4 diesel engine," says Van Solingen.
In addition, says Van Solingen, "The EGR system is designed to not require any special maintenance between the normal scheduled overhaul intervals for our engines."
Other U.S.-based customers Harvey Gulf International Marine and Oceaneering have also ordered 12V250MDC Tier 4 engines to meet stricter EPA emissions standards. Two 12V250MDC Tier 4 diesel engines will power Harvey Gulf's new Robert Allen designed Multi-Purpose Field Support Vessel, currently under construction at Eastern Shipbuilding Group in Panama City, FL.
Meanwhile, Oceaneering has ordered five 12V250MDC Tier 4 diesel engines for its new Inspection, Maintenance and Repair (IMR) vessel MSV Ocean Evolution under construction at BAE Systems in Mobile, AL.
NEW ENGINE FROM MAN
Also on display at the WorkBoat Show was a new inline six-cylinder diesel engine range for workboats, ferries, fishing trawlers, and pilot boats based on the MAN D2672 diesel engine from MAN Engines. Offered in a range of outputs from 323 kW to 588 kW (440 to 800 hp), the basic six-cylinder engine has been proven in a wide range of on- and off-road machinery since it was first introduced in 2007. Its robustness and reliability in workboats has also been demonstrated in extensive field trials over several thousand hours of use in ferries, pilot boats and high-speed catamarans.
The modern common rail injection system used in the D2676, with fuel pressures up to 1,800 bar, ensures high mean pressures and optimized combustion. This increases on-board comfort due to reduced vibration and noise emissions. The inclusion of a Miller or Atkinson camshaft has helped to achieve an average 10% reduction in fuel consumption compared to the engine's predecessors.
As part of this improvement in fuel consumption, all engines also comply with the current strict EPA emissions.
The new MAN D2676 marine diesel engines replace the predecessor models D2866 and D2876.
The new D2676 engines also offer the wide torque plateau that is characteristic for MAN marine engines. The 323 kW (440 hp) power unit provides 1,950 Nm of torque between 1,200 and 1,600 rpm for heavy operations, while the 588 kW (800 hp) high-performance model manages to generate 2,700 Nm between 1,200 and 2,100 rpm for light operations. This ensures maximum torque over a broad engine speed range at the lowest specific fuel consumption.
SCANIA MAKES IN ROADS
Scania has been making inroads in the marine propulsion sector because of its compact, proven engine platforms. Some recent installations in the U.S. Gulf of Mexico include the high-speed crewboat Fourchon Runner, which is powered by quadruple Scania 16L engines for a total of 2,400 hp.
Naiad Inflatables recently delivered the Karankawa, a twin-screw pilot vessel for the Matagorda Bay Pilots of Texas.  The pilot boat has two Scania DI13 77M main engines, with Twin Disc MGX-5114A gears and ZF controls. It employs shaft propulsion with driveline components from H&H and Michigan Wheel propellers. The pilot boat has a top speed is 33 knots.
At the Workboat Show, Scania showcased its Tier 3 platform, including its 16-liter V8 and 13 liter inline engines.
Scania engines are all based on Scania's new modular engine platform—well proven in the company's truck and bus engines. Scania V8 engines are engineered to produce high power, while maintaining a size that is compatible for auxiliary equipment. The V design reduces the overall length of the engine and ancillaries can be effectively accommodated inside the footprint of the engine.
The output ratings for Scania's newest Tier 3 version of the 16-liter marine propulsion engine range from 550 to 900 hp, with outputs between 550 to 1,000 hp available for use in international and exempt markets.
For auxiliary applications, the range for EPA Tier 3 is 468 kW – 553 kW, and the current range will continue to be offered between 430 kW – 596 kW for international and exempt markets. Scania also expects to see an increase in the output ratings of V8 engines used for keel-cooled applications.
The output ratings for Scania's newest Tier 3 version of the 13-liter inline marine propulsion engine range from 250 – 675 hp, with outputs up to 750 hp available for use in international and exempt markets. For auxiliary applications the range for EPA Tier 3 is 269 kW – 426 kW.
Scania's centrifugal oil cleaner effectively removes small particles from the lubrication oil, while reducing the size of the replaceable filter cartridge. The Scania saver ring, placed at the top of each cylinder liner, reduces carbon deposits on the edge of the piston crown and reduces cylinder liner wear.
In spite of higher performance and tighter emission levels, Scania has been able to increase maintenance and oil change intervals by 25% (now 500 hours) in comparison to its predecessor.
NEW CONCEPT: TWIN FINS
During a presentation for the trade press at the Workboat Show, Caterpillar highlighted the development of its Twin Fin Propulsion Systems. The initial Twin Fin Propulsion System was retrofitted on the seismic vessel Polarcus Naila at Shipdock in Amsterdam in March 2014.
"In the seismic business, seismic assets or the vessel is a huge workhorse," says Peter Zickerman, Polarcus Executive Vice President. "About 85 percent of its lifetime, the vessel is under constant tow in various weather conditions. It is imperative that the reliability of the vessel and its propulsion system are top notch."
The Twin Fin is designed for vessels that operate on a diesel-electric propulsion system. With thrusters, vessels can have more cargo capacity. With conventional propellers, operators benefit from added reliability and safety. Twin Fin offers the advantages of both. It offers higher thrust performance, reduced fuel consumption, and a better emissions profile.
According to Mattias Hansson, naval architect and sales manager at Caterpillar Propulsion, development of the Twin Fin Propulsion Systems started with the company's partners in the third quarter of 2012 and a patent application was filed in the first half of 2013. Hansson points out that the Twin Fin Propulsion System also incorporates some green aspects, including, a water-lubricated stern tube, instead of an oil-lubricated system.
For the retrofit, the twin fins were prefabricated in about 15 days and readied for the Polarcus when she arrived at the shipyard.
"This new system provides an excellent course keeping stability for the ship—important for a scientific ship like this," says Henning Kuhlmann, Managing Director, Becker Marine Systems. Becker Marine Systems supplied highly efficient flat rudders for the installation of the Twin Fins.
The payback period for the system is about three years based on fuel consumption savings, efficiency gains, improves environmental footprint, and improves reliability when operating in remote areas.
In the coastal market, Caterpillar is supplying two harbor tugs being built for Harley Marine Services, Seattle, WA, at Diversified Marine, Inc., Portland, OR.
Each of the Harley Marine tugs will be outfitted with Cat 3516 main engines—each rated at 2,575 hp at 1,600 rev/min—and two MTA 524-T azimuthing thrusters. The thrusters will have 95.5 in. diameter fixed-pitch propellers.
Cat Propulsion's Emil Cerdier says the MTA-T thrusters deliver "excellence of economy and performance to the tug market." The tugs will be delivered by Diversified Marine in 2017.
Z-DRIVES GO INLAND
While Z-drives are fairly commonplace in the tug market, they are a relatively new phenomena in the inland towboat market. While some were installed as early as the 1980s, Z-drives got a major boost in 2006, when Bill Stegbauer and Ed Shearer began exploring the use of alternative propulsion, including Z-drives in inland towboats. Stegbauer, then President of Southern Towing Co., eventually opted for a design that would use Z–drives in a series of 3,200 hp towboats.
There are now about two dozen towboats operating with Z-drives and more are under construction. One of the latest series of three 6,300 hp towboats designed by The Shearer Group that are being built at C&C Marine and Repair, Belle Chasse, LA, for SCF Marine Inc. As you might guess, Ed Shearer is the President of The Shearer Group.
The towboats will each have three Cummins QSK60-M diesel engines coupled to three Steerprop SP-25D z-drives. Cummins Mid-South is supplying the engines, while Karl Senner, LLC, Kenner, LA, is supplying the Z-drives.
The Z-drives were selected only after a through analysis. "We worked closely with the both the owner and the naval architect, but at the end of the day, the decision was up to the owner, SCF," says Karl Senner.  "Tim Power and Myron McDonough were very diligent in the selection process, and we very much appreciate the in-depth approach and attention to detail.  We pride ourselves in offering robust products and superior support, factors that are critical while operating in the demanding environment of the inland waterways.  Steerprop units are designed for the longest time between overhauls on the market.  We have also been supporting inland operators since our company's inception in 1967.  We are very excited about our relationship with SCF and we know it will continue for a long time to come."
Steerprop SP25D Z-drives are designed for operating in harsh environments.  These specific drive units were selected and configured similar to that of ice-class applications.  Ice class design is Steerprop's forte, having designed and supplied Z-drives on board three of the world's largest mechanical Z-drive ice breakers build to date. 
These will be the first inland towboats in the U.S equipped with Steerprop Z-drives.  "The inland waterways have been a major focus of our business since 1967 for Reintjes gearboxes," says Senner. "We pride ourselves in knowing what it takes to support the high demands of our inland customers, from sizing the appropriate equipment, to stocking spare parts, and providing quick service turnarounds. We are a family-owned and -operated company, flexible to respond to customer needs quickly and effectively." 
"We are in discussions with multiple other inland projects, but not at liberty to discuss them at this point in time."
Z-drives have begun to catch on with inland transportation operators because of the safety, operational efficiencies and fuel savings they offer. As operators of harbor tugs have long been aware, the Z-drive can deliver full thrust in any direction almost instantly, where as the conventional rudder set aft of the propeller and even the flanking rudders set ahead of the rudder as is the practice on many inland river towboats, will sacrifice time and power by the inefficient nature of the conventional drive and rudder system.
Due to the greatly improved maneuverability with Z-drives, tows do not need to slow down in turns and bends in the river. Trip times are reduced and require a lot less fuel. A study conducted by The Shearer Group, Inc. last year showed an average of 28% fuel savings and 11% trip time savings during a set of controlled experiments with unit tows when using Z-Drives instead of conventional shafts and rudders.
SCF Marine, Inc., St. Louis, MO, is part of SEACOR's Inland River Services group. SCF Marine operates a fleet of hopper barges along the U.S. Inland River Waterways and South America, transporting agricultural, industrial, and project cargoes.
Thrustmaster of Texas, Inc., Houston, TX, says towboats with Z-drives are not significantly more expensive than conventional towboats. The initial cost of the Z-Drives is significantly offset by reduced construction costs and installation man-hours. Shipyards have reported that the cost of building Z-drive boats is actually less than building conventional boats.
One of the latest applications of Z-drive propulsion is in a fleeting boat by Carline Companies. Carline recently added the 68 by 34-foot towboat USS Cairo for barge fleeting on the lower Mississippi.
Designed by Christian Townsend of CT Marine and built by Raymond & Associates, the USS Cairo is fitted with two six-cylinder Tier 3 compliant Cummins QSK19 main engines turning Thrustmaster TH750MZ Z-drives with 57-inch propellers.
According to Thrustmaster of Texas, a Z-drive replaces the propeller, shaft, stern tube, marine gear, rudder and steering gear all with a single unit.  Z-drive azimuthing thrusters provide maximum thrust in any direction, independent of vessel speed, offering superior pinpoint maneuverability under all conditions. Rudders are completely eliminated. Rudder drag no longer exists. All of this can be done with a lot less power. A 1,500 hp Z-drive boat can replace a 2,000 hp conventional towboat and a 3,000 hp Z-drive boat can replace a 4,000 hp conventional towboat.