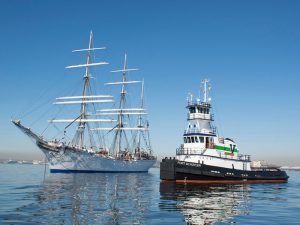 The Fort Schuyler is the eleventh Sassafras Class tugboat built for Vane Brothers by Chesapeake Shipbuilding, Salisbury, MD. Its sister tug, the Kings Point, was delivered in April this year.
"Working alongside another Maryland-­‐based company to deliver safer and more productive working vessels such as the Fort Schuyler has been a great experience for Vane," says Vane Brothers President C. Duff Hughes. "Chesapeake Shipbuilding is helping us to further our mission of providing the highest quality service to our customers."
Measuring 94 feet long and 32 feet wide with a hull depth of 13 feet, the Fort Schuyler is similar in most respects to the previous ten tugs built for Vane by the shipyard.
The vessel is equipped with twin Caterpillar 3512 Tier 3 main engines producing a combined 3,000 horsepower, and operates with a single-drum hydraulic towing winch.
"Soft-core" panels and heavy, fire-rated doors are used throughout, offering the crew a safer and quieter living environment.
In a first for Vane Brothers, the Fort Schuyler's state-­‐of-­‐the-­‐art wheelhouse features multi-­‐functional Simrad marine electronics that utilize intuitive interfaces for heightened performance.
The Fort Schuyler, like the Kings Point, has joined Vane Brothers' fleet based in New York.The two vessels are named for the campuses of SUNY Maritime College in Fort Schuyler, NY, and the U.S. Merchant Marine Academy in Kings Point,NY.