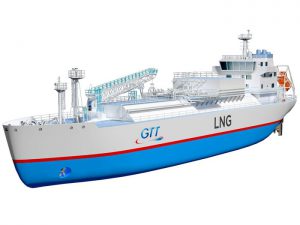 Granted Approval in Principle by classification society Bureau Veritas, the bunker tank uses tanks with a GTT Mark III Flex Cargo Containment system operating up to a pressure of 2 barg to deliver LNG as ships' fuel. Combining the membrane containment system with the ability to store LNG at pressures up to 2 barg allows the bunker vessel to have a higher capacity and increased operational flexibility.
"Practical LNG bunker tankers are the key to building a viable LNG supply chain on which to develop LNG as a ship's fuel," says Philippe Donche-Gay, Executive Vice President and head of BV's Marine and Offshore Division."This pressurized membrane tank concept from GTT means LNG bunker tankers can manage Boil Off Gas (BOG) better and increase loading and delivery flow rates. Our studies show it is both safe and practical. We look forward to seeing the concept taken forward to a new construction."
Under GTT's system. the BOG management during loading and bunkering operations is made more flexible because of the wide vapor pressure operating range. Vapor can be buffered and condensed in the tanks to help the fueled ship or feeding facility handle the vapour. Condensation may be performed by spraying LNG into the vapor phase.
The higher pressure also means that during voyage and stand-by mode, the duration before gas pressure in the bunker tanker's tanks reaches the upper limit is longer. This improves the holding time when BOG is not being consumed and reduces the use of reliquefaction plant, diminishing costs.